TobaccoChek® Moisture Testers
These are the most accurate and cost effective tobacco moisture meters in the world. There are three different models to choose from; flue-cured, burley and oriental tobacco.
ACCURATE...
Throughout the range specified by the tobacco industry.
Tobacco scales developed with parameters set by major worldwide tobacco companies.
Direct moisture content readout in 1/10 of 1% increments.
Solid state microprocessor electronics
RELIABLE...
Pre-calibrated for different tobacco types
Bale density compensation
Automatic temperature compensation
Adjustable scale function
No moving parts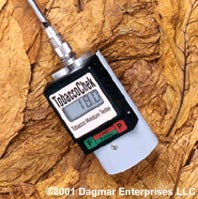 RUGGED...
Field tested
Body and probe made of tough aircraft aluminum
PORTABLE...
Hand held unit
18" probe attaches in seconds
Carry case with strap
Operates on standard 9V battery
1 year warranty