High Dollar Warehouse "Very Pleased" with TobaccoChek® Testers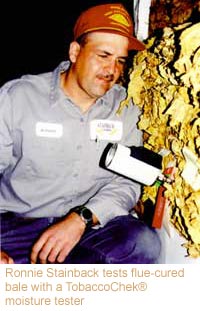 High Dollar Warehouse owner and 165-acre grower Ronald Stainback and his sons Ronnie and Roger, of Middleburg in Vance County, NC, have lots of experience with the TobaccoChek® moisture tester.
They've been using two TobaccoChek® testers they own, plus two or three Philip Morris provided them to check moisture in all bales of tobacco purchased by PM/leaf buying companies for three seasons now. In 2000, the Stainbacks sold over 9 million designated pounds of flue-cured tobacco in their High Dollar Warehouse.
Says Ronnie Stainback, "We take a moisture test of every bales sold to be sure the are under the 18% moisture allowed in the bale. PM says the TobaccoChek® readings have been very close (within 1 to 2 points) to what they've measured with very sophisticated equipment at their plants."
Stainback adds, "If the bale is over 18% moisture, the farmer's got to break up the bale….and that's expensive. We've had lots of farmers come in and borrow our unit to see it the bales they're making on the farm are under the 18% limit. Some farmers have also purchased their own TobaccoChek® units because ensuring quality of bales at the farm saves them time and money."
"Overall, we are very pleased with our TobaccoChek® moisture testers, which are vital to meeting tobacco buyers' standards. We've found them to be very portable, rugged and accurate in measuring moisture in lots of baled tobacco,"  concludes Stainback.